Navigation:
Home
> Upland Wings Preserve - Testimonials
Upland Wings Preserve - Testimonials
Here's what a few of our customers have had to say about us. Have a testimonial of your own to share? Click Here fill out our short testimonial form.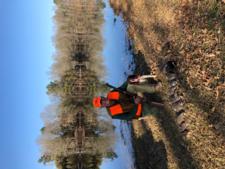 Randy Priem
Winter 2021 - Chaska, MN
While visiting South Carolina I have hunted Upland Wings three times. I have done non-guided hunts while working my Springer Spaniel pup and the hunting areas have been in great shape and was just what I was looking for. Joe, Neal and Cam have been super efficient and professional. Even more importantly, they made me feel at home immediately. I will definitely return in the future.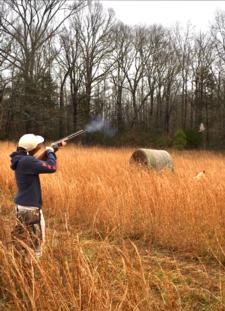 Office of Ocean and Coastal Resource Management
Winter 2021 - Daniel Island, South Carolina
My son (Johnny) and I hunted Quail and Chukar with Trey as our guide. This was my son's first time hunting, so I wanted it to be a very positive experience. Trey was an awesome guide and the dogs were just amazing! They made the hunt such a success! We shot 12 Quail and 8 Chukar! I'm sure we will be back again for another hunt. Thank you very much!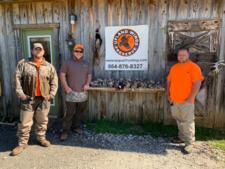 Seibert
- Prosperity sc
Awesome experience . Will definitely be back again. Quality hunting and staff goes above and beyond to make the hunt a success.
Michael Rhodes ( MOJO HAND BAND)
spring 2019 - Pike co Alabama
My band played music at UWP for a coorperate event and although I cant speak for the hunting I will say the hospitality of the the staff there is second to none. We play similar events in Alabama for numerous hunting plantations and I must say we felt right at home in South Carolina, Thanks guys.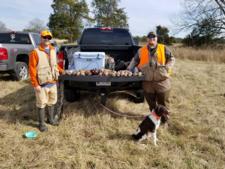 Trey Vereen
2016 to present - Clinton, SC
I started hunting with Joe and Neal in the Fall of 2016 and it was my first time hunting upland birds. Joe let me use my own dog and gave me some tips to get started. Long story short, I fell in love with upland hunting and Upland Wings Preserve. From novice to the most seasoned hunter, the guys at Upland Wings treat everyone with respect and make you feel like you have been lifelong friends. The birds fly great, the dogs work like a well-oiled machine and the scenery is like a post card. If you are looking for good quality hunting with the best guides in the biz, you just found 'em!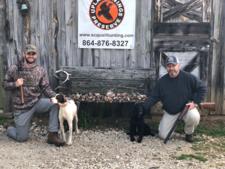 Mike Addy
Spring 2018 - Lexington, South Carolina
My son and I went on a guided quail hunt with Joe and had a blast. Not only was the hunting great, but the conversations and personal touch provided was above and beyond all other hunts I have experienced. And to top that off, being able to watch two great dogs, Lattie and Dot, work was nothing short of magical! A big thanks to Joe and Neal for making my sons first quail hunting experience a most memorable one... Mike Addy
Doug Ellison
Winter 2016 - Williamston, SC
A big thanks to Neal and Joe for a very high quality quail hunt. If you are hunting preserve birds, there's really no need to drive all the way to South Georgia. The birds flew great, dog work was outstanding (especially liked the flushing dogs), and they both do a great job of guiding their guests. For the money, you'll have a hard time finding a better value than Upland Wings.
Luke Hindman
Charter Member - Greer SC
I have personally known Joe for 25 years. From growing up and learning the art of Quail Hunting with he and my father. He is the utmost example of class and a true sportsman. If you are looking for a hunt or experience that feels like home while not sacrificing professionalism look no further than Upland Wing. Joe & Neal are the best at what they do and are more than willing to go the extra mile. I would vouch for them whether you be a family or corporate outing. Luke Hindman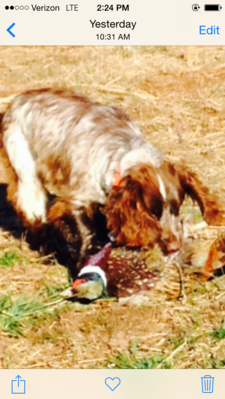 Don & Pat Greene
Spring 2015 - Clinton, SC
Joe and Neal, Just wanted to thank you for another awesome Pheasant Tower Shoot. This was Pats first time and she really had fun, she is so empresses with the dogs. Thank you for working with Sadie Mae last week, we have her so spoiled, I was afraid you would not be able to do any thing with her, but we were very surprised. All my friends that came said they are looking forward to the next shoot. Thanks again it was a great day.
Tom Renedo
Winter 2015 - Columbia,SC
Always have a good time at Upland Wings Preserve. Joe and Neal are the best. They work hard to make sure you have a good hunt and time. Great folks!! Tom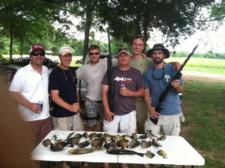 James Tew
- Clinton
Thanks Neal we had a great time as always. If you are looking for something to do before Bird and deer seasons come in you need to call Neil and rent the cabin and go fishing and shoot some skeet. Like I have said before this place is a little piece of heaven just 45 minutes from Greenville.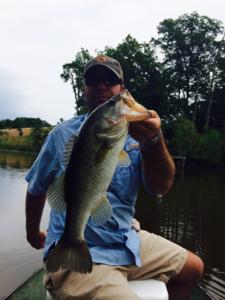 James Tew. Express Employment Professionals
Two weeks ago - Clinton
Nothing better than fishing a pond that when you get a bite there's a good chance it's going to be a 3 pound fish or better.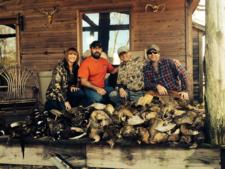 James Tew
-
My Boss and soon to be father-in-law, our office manager and a client after a tower shoot.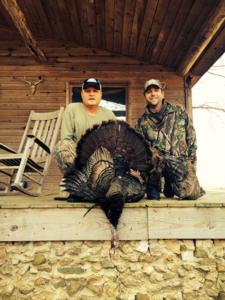 James Tew
-
Second week of Turkey season, this place is loaded with birds.
James Tew, Express Employment Professionals
1503 pearson blair sc
I had the experience of meeting Neal and Joe at one of the first Pheasant Tower shoots they did and fell in love with this place. Since then we have taken clients on Pretty much every tower shoot they did. Since our clients and myself and boss had such a great time on the tower shoots we decided to give the Quail hunting a try and let me tell you, Neal and his Father Joe are the best in the business. But I am a turkey nut so every time I was down there shooting pheasants or hunting quail I would catch myself day dreaming about Thunder Chickens gobbling and strutting around. So I made it a point to come down and chase around some turkeys and had an awesome two hunts tagging one bird and then calling in one of the biggest gobblers I've ever seen but my fiancés cousin was too nervous to pull the trigger, that's another story on it's own. I will be down there this weekend with a bunch of my childhood friends for a weekend of fishing and catching up. Upland Wings is a gold mind and I am glad that I have found this place and they will have my business until Neal gets tired of me calling him to set something up or just to shoot the crap with him.
Send Us A Comment
To our past clients: We appreciate your comments and if you would, fill out the form with comments and a photo about your experience at Upland Wings Preserve. Fields marked with * are required. Please enter the Name field how you want your name to read on our website (Examples: John Doe, J. Doe, John D., John Doe Corporation).